Ash, Dioxins and Allotments
Incinerators take waste and burn it in a sealed container. Bottom ash is collected at the bottom and the hot gases are filtered before being released into the atmosphere. The content of the filters is described as Fly ash and is a hazardous waste. In the recent past, bottom ash and fly ash have been frequently mixed and disposed of in building materials or as hard-core for paths and carparks etc.
History of ash pollution scandal in Newcastle
The use of mixed bottom and fly ash from the Byker Plant on allotments, footpaths and hard-standing areas across the City has achieved notoriety locally and nationally. After testing, the ash was found to be highly polluted, with particularly dangerous levels of dioxins, and a major cleanup operation was instigated. Both the City Council and the plant operators, Contract Heat and Power, have subsequently pleaded guilty to charges brought against them by the Environment Agency and were fined a total of &pounds;30,000 in Newcastle Crown Court on 4th January 2002.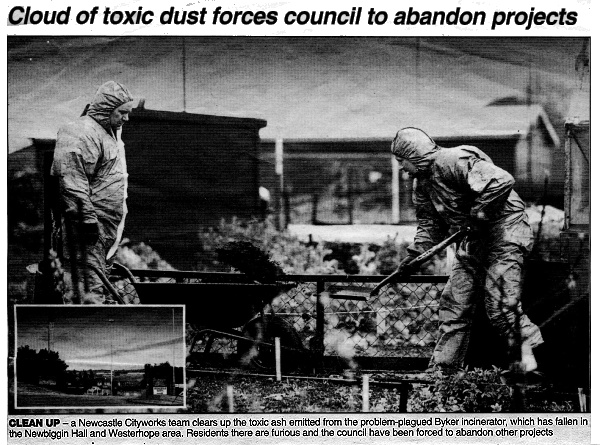 Workmen clearing up toxic ash from an allotment in Newcastle
The progress of the testing of the ash, of soil from the allotments and of vegetables collected from some of the affected allotment sites, have been monitored closely by BAN Waste. Representatives of BAN Waste sit on multi-agency Steering Groups for the ash and soil tests. Copies of reports relating to these tests are available on the reports page.